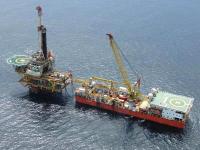 Energean Oil & Gas has launched a new $225 million investment programme to develop 30 million barrels of reserves in North West Greece and to increase production from the Prinos, Prinos North and Epsilon fields to 10,000 bbls/day by 2016.
The new investment programme involves the drilling of 15 wells and the installation of two new unmanned platforms for the Prinos North and Epsilon fields which will be tied back to the existing infrastructure Energean already operates.
In addition, Energean has purchased the tender assist drilling rig Glen Esk from KCA Deutag and will be utilising its own drilling crews to drill the wells, significantly reducing drilling costs and giving Energean operational flexibility to maximise recovery of the reserves from the Prinos basin. The new rig will be re-named "Energean Force" and is expected to commence drilling in Greece in the beginning of December.