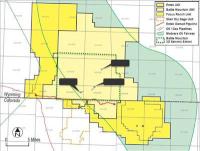 Entek Energy Limited spuds the McKee 5-16-H1 well on 7 August 2015 in the US. The McKee 5-16 well is the second of three wells planned to be drilled and tested this year by the Operator of the Battle Mountain AMI, GRMR. Entek owns a 20% working interest in the Battle Mountain AMI and related leases, with GRMR holding the remaining 80%.
The McKee 5-16 well is located in the southern part of the Battle Mountain 3D seismic survey and is to be drilled as a horizontal well aimed to intersect naturally fractured fault zones within the Niobrara oil bearing formation. The target measured depth of the well is around 10,400 feet which includes a horizontal section of approximately 4,000 feet. On 9 August 2015 in the US the well had reached a depth of 1,838 feet where surface casing is currently being run and cemented.
Learnings from the drilling of the Cobb 12-7 well (both operational and geological) will be applied to the drilling of the McKee 5-16 well in order to avoid similar potential hole problems in the Niobrara target section.