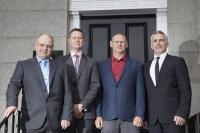 Exceed has has joined forces with eight former members of senior staff from Applied Drilling Technology International (ADTI).
ADTI ceased trading in May 2015, following a decision to close the business made by the company's private equity owner, Sun European Partners. Resulting in the loss of 90 jobs, it also lead to the decision by eight senior members from across the ADTI business to actively look at ways to continue to operate. Following discussions with Exceed, a new venture was formed with the intention of continuing to serve former ADTI clients and the wider North Sea market.
This venture brings Exceed's total number of staff to 30 people, with a further 20 contractors working on projects both locally in the North Sea, as well as internationally on projects in Canada, West Africa and South East Asia. All of the new positions will be based at Exceed's existing headquarters in Aberdeen.