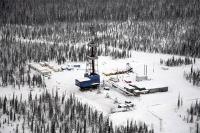 Exillon Energy announce the appointment of Roman Kudryashov, Alexander Markovtsevand Natalya Shternberg as independent non-executive directors of the Company.
The new directors, whose appointment to the Board of Directors is with immediate effect, were recommended to the Company's board by a leading international recruitment agency assisting the Company in its search for new independent non-executive directors.
Having considered the new directors' knowledge and experience of the oil and gas and financial sectors, the Company's Board concluded that the new directors would make a valuable contribution to the Company's future growth and development. Accordingly, the appointments were unanimously approved.