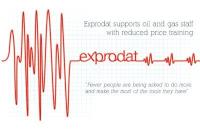 Exprodat understands that the lower oil price continues to restrict investment in the training and personal development of oil and gas staff and they want to do something to help.
From now until the end of 2016 attendance on one of the company's ArcGIS-centric courses will be available for 25% less than their usual prices.
The courses are specifically designed for oil and gas upstream professionals and attendees to learn how to gain the maximum benefit from using the popular GIS software within common industry workflows.
The offer will mean that Geoscientists, Data Managers and IT support staff will be able to continue learning during the industry downturn and ensure that their skills and knowledge remain up-to-date with the latest software releases and exploration techniques.