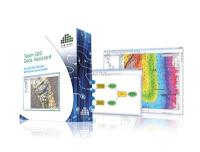 Exprodat has released a new version of Data Assistant, the ArcGIS extension that allows oil and gas companies to transfer data between the ArcGIS platform and common exploration and production file formats such as Schlumberger Petrel, IHS KINGDOM, Landmark OpenWorks and SeisWorks, amongst others.
Data Assistant v221 has been extended and enhanced with a host of new features, all focused on speeding up and simplifying data integration.
In line with the release schedule of Esri, this latest version of Data Assistant now supports the soon-to-be released ArcGIS 10.3 for Desktop and includes translators for a wider range of data formats. So now Data Assistant users are able to benefit from using the powerful features of the latest spatial analysis software with more of their own data to increase the quality of their exploration and production decisions.