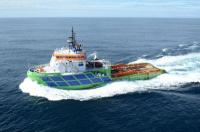 Fairmount Marine has safely delivered rig ENSCO 5002 in Singapore. The rig was towed from Rio de Janeiro, Brazil, via Cape Good Hope, by tug Fairmount Expedition.
ENSCO 5002 is a 1975 built 70 meters long and 61 meters wide semi- submersible drilling rig. The rig can accommodate up to 110 persons and is capable to drill up to 10,668 meters.
Tug Fairmount Expedition hooked-up with the rig offshore Rio de Janeiro mid-November 2013. The convoy arrived in Singapore this week after a 9,200 miles voyage by an average speed of 5,6 knots.