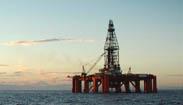 Falkland Oil and Gas Limited says that the 14/20-2 'Isobel 2' well was spudded, by Premier Oil as operator, on 21 November 2015.
The well is located on licence PL004a , in which FOGL has a 40% working interest, and lies approximately 4 km away from the 14/20-1 Isobel Deep oil discovery. The well will target the Isobel Deep reservoir and is a re-drill of the 14/20-1 well drilled earlier this year, which failed to reach Total Depth owing to operational issues.
The well will test the F3 fan systems, which are mapped as entering the basin from the south east margin and comprise a sequence of stacked reservoirs. In addition to Isobel Deep, the well will also penetrate four other fans within the complex, comprising: Elaine South, Isobel, Doreen and Irene. The Elaine/Isobel fan complex, based on the operator's estimates, has multiple reservoir targets and gross, mean un-risked resources of 400 million barrels of oil.