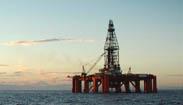 Falkland Oil and Gas Limited ('FOGL') is providing an operational update on the 14/20-1 'Isobel Deep' well that was spudded by Premier Oil (well Operator) on 8th April 2015.
A zone of suspected elevated formation pressure was penetrated at the base of the current 12 ¼' hole section and oil shows were also encountered in this interval. The operator has decided to run an additional casing string before drilling ahead through the main reservoir target to total depth. This scenario had been anticipated and the additional 9 5/8' casing is already on the rig.
This additional activity will add approximately 10-15 days to the schedule and final results are now expected in early June.
This additional work has no financial impact on FOGL, as the Company is fully carried through the costs of the Isobel Deep well by Premier Oil and Rockhopper Exploration.