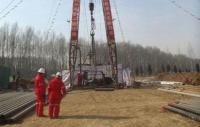 Far East Energy Corporation says that gas production has settled in at 1.93 MMcf/d, sitting steady at that level for the past two months.
Gas production from the Shouyang CBM PSC averaged 1.93 MMcf/d in May 2014, compared to 2.1 MMcf/d in April and 2.2 MMcf/d in March. Thus far in June 2014, production has averaged 1.93 MMcf/d.
The intention of the drilling campaign completed late last year was to produce the wells at a conservative pace in order to maximize the zone of desorption around each wellbore so as to maximize ultimate production from the field.