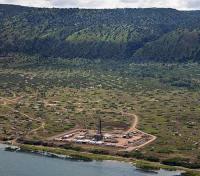 Total and Tullow have entered into a package agreement under which Total will acquire an additional 21.57% interest from Tullow in the Uganda Lake Albert oil project.
Following this transaction, Total will hold a 54.9% interest, strengthening its position in this competitive project and paving the way for a project sanction in the near future.
The overall consideration paid by Total to Tullow will be USD 900 million, representing a reimbursement of a portion of past costs, payable in instalments along the development of the project, with an initial payment of USD 100 million at closing.
"Following the agreement on the Tanzanian export pipeline route, this transaction gives Total a leadership position to move this project efficiently toward FID in the current attractive cost environment, while providing strong alignment and a pragmatic financing scheme for our partner Tullow," says Patrick Pouyanné, Total Chairman and CEO. "Our increased share in the Lake Albert project will bring significant value to Total and fits with our strategy of acquiring resources for less than 3$/b with upside potential."
Under the terms of the deal, Total will acquire 21.57% out of Tullow's existing 33.33% stake in all of the Lake Albert project licenses EA1, EA1A, EA2 and EA3A. Total, which is already operator of licenses EA1 and EA1A, will in addition take over operatorship from Tullow of license EA2, enabling significant efficiency gains and synergies.
Closing of the transaction is subject to customary regulatory and government approvals and to partner pre-emption rights.