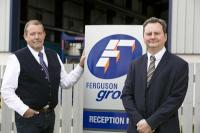 In a move to expand their presence in the European energy markets, Ferguson Group is expanding its European operations with a new Dutch Partner.
Norsco Oilfield Services operates from a base in Ter Apel in the heart of Northern Europe. Mr Bert Platje has extensive experience in the global energy industry, having worked all over the globe, including the US. Norsco Oilfield Services was formed out of BMS Development , founded in 2004, selling eco-friendly chemicals to the oil & gas industry.
Norsco was established to offer a broader portfolio of services. The chemicals provided are designed to be used offshore to render drill cuttings non toxic. As providers of containers and tanks that can transport and store chemicals, amongst other items, the Ferguson Group range was a natural fit.