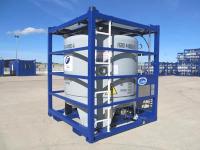 Ferguson Group has introduced bunded tanks to its offshore fleet.
The new tanks are designed to be used where HSE mandates a bunded area, but there is insufficient space to provide this. Therefore they are ideal for places such as vessels, platforms, jack ups and rigs.
The new bunded T11 chemical tanks are made of 316 stainless steel, have a 4-bar working pressure, with a payload of 5900 kg and a maximum gross weight of 8500 kg.
The new addition to the fleet follows customer feedback on their requirements for chemical storage and transportation. Currently the company has a wide range of chemical, acid and ISO tanks for general fluid transfer.
Judith Verner, Fluid Solutions Development Manager said,"The new bunded tanks will provide our customers with an added safeguard for the transport and storage of hazardous products in an offshore environment and avoid the requirement of separate transportable bunds or the use of bunded areas. The bunded tanks have a 110% fill capacity of the T11 tank as per HSE guidelines and are fully sealed to avoid the build-up of rainwater."