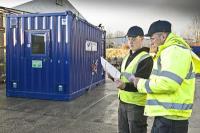 Ferguson Middle East has introduced a new dual HVAC system to their engineering workspace modules.
The new system has been design engineered to protect offshore workers from the punishing temperatures in the Arabian Gulf. Temperatures can reach upper 40oC (forty degree Celsius) or higher during the summer months and high temperatures make for an uncomfortable work environment. Offshore crews need an air-conditioning system that offers a more comfortable and cooler workspace.
In addition to improvements to temperature management, the introduction of a two speed fan improved HVAC unit efficiency by 30%, during normal operation, and reduced purge time. When an A60 module becomes de-pressurised, it has to be purged prior to anyone re-entering the module. Purging a module can sometimes take up to an hour, during which time the pressurised module cannot be used. The new HVAC unit has meant a 25% reduction to the purge time.
Dr. Julian Poyner, Engineering Director, Ferguson Group,"All offshore modules are pressurised and this means that they have cool air pumped through them at a constant rate whenever they are powered up. When you are dealing with a very warm ambient temperature the HVAC has to work a lot harder. Offshore, this can mean that the HVAC unit is under stress for days at a time, with the obvious risk to reliability."
Poyner continued:
"We are delighted that we have been able to design a solution to meet the needs of our Gulf clients and can offer a solution that successfully addresses the challenge of working in modules in such high temperatures."