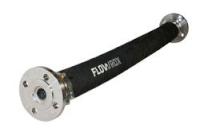 Flowrox has launched the Flowrox Expulse™ product, designed to assist during pump and dampener maintenance by reducing noise and vibration associated with traditional methods—which can lead to pipe damage that can cause breakage and a loss of revenue.
Already known as a leader in the manufacture of industrial valves and pumps, Flowrox is an authority in the industry when it comes to pipe dynamics and its extensive knowledge and experience are applied into every new product design.
The Flowrox Expulse was designed for use by companies in the Oil & Gas, Mining, Metallurgy, and other industries where pipes and valves are used to move materials or fluids using pressure—and Flowrox's reputation in these industries covers multiple product lines and solutions.