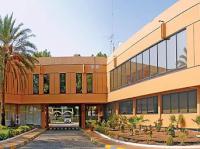 Gulf Marine Services secures the first contract award for its new Mid-Size Class vessel GMS Shamal.
The vessel, which is the first of its kind in the world, is currently being built at GMS' quayside facility in Abu Dhabi and is on schedule to be completed in Q2 2015 when it will proceed directly to its first charter for a national oil company in the MENA region.
The contract is for five years (two years firm with three one-year options). GMS Shamal will be supporting well service work, with the day rate in line with that previously indicated for the region for this class of vessel.
This SESV is not only a new design, being the first self-propelled SESV of this Mid-Size Class to be built by GMS, it has also been adapted to suit the client's specific needs as a specialised well intervention unit.