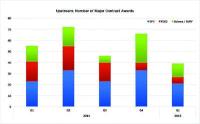 The latest EIC Monitor report once again shows a significant decline in the levels of contracting activity across global upstream, midstream and downstream sectors in Q1 2015. Overall figures show the number of major contract awards made since the last quarter contracting by 30% following a previous decline in the preceding quarter.
However, despite the overall number of contracts being awarded dropping, the value of some is substantial. But while long term investment plans and new discoveries hold promise for the long term, these could take a long time to come to fruition for industry players. The number of major contract awards across the global oil and gas industry has steadily declined during the last quarter (Q1: Jan-Mar 2015), dropping to 95 contract awards, a 30% decrease compared to 136 in Q4 2014, and just 64% of the 149 contracts awarded in Q1 2014.
Upstream Contracting Activity in Q1 2015
In Q1 2015, a total of 39 major contracts - EPC (Engineering, Procurement & Construction), FEED (Front End Engineering Design) and Subsea/SURF (Subsea, Umbilicals, Risers & Flowlines) - were awarded across 30 upstream developments, falling 65% from 66 awards in Q4 2014 and compared to 55 awards in Q1 2014. A total of 21 EPC contracts, 6 FEED contracts and 12 Subsea/SURF contracts were awarded.
EPC Activity
The US, Ghana, Malaysia and Norway have seen significant activity, accounting for 11 EPC contracts across 6 different upstream developments. In the US, there were two EPC contracts for the Stampede Oil Field, with Kiewit securing a contract to carry out the topsides fabrication and Samsung Heavy Industries the hull fabrication.
There has been significant activity on the Cape Three Points Block (OCTP) – Sankofa and Gye Name Discoveries in Ghana with four separate contracts being awarded. PetroVietnam Technical Services Company (PTSC) and Kanfa Group are each supplying four topsides modules for the FPSO, GE Oil and Gas is providing three gas turbines and four centrifugal compressors, and Yinson Holdings the FPSO, with a value of over $2.5 billion making it one of the larger contracts in the quarter.