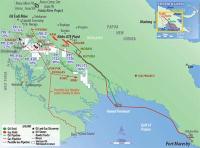 Horizon Oil advises that the Nama-1 exploration well in PPL 259, Western Province, Papua New Guinea, which spudded on 4 December 2014, is currently at total depth of 3,533 m.
The well encountered a total of 77 m of the target Early Cretaceous Elevala and Toro sandstones and Late Jurassic Kimu sandstones, which are productive in nearby Stanley field (see map). Subsequently pressure measurements and sampling were taken in the key prospective zones, followed by the acquisition of side wall cores.
The sands, which were considerably thicker than predicted, calculate as being gas-saturated, however reservoir properties are of poor quality and cannot be considered to be commercially productive at this location.