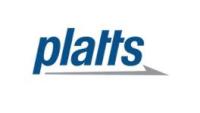 Platts says that its second annual independent assurance review completed by Ernst & Young confirms that Platts' governance and controls framework, policies and editorial practices align with IOSCO's Principles for Oil Price Reporting Agencies.
"For the second year, the results of the review affirm Platts' commitment to the PRA Principles and to high standards of price reporting," said Larry Neal, president of Platts. "Platts continues to be a standard bearer in clearly defined and transparent methodologies. We are pleased that our methodology framework and control procedures provide reasonable assurance that the PRA principles have been achieved."
The Platts review was again conducted under the 'reasonable assurance' standard, the highest standard for this type of review, as recommended by IOSCO in its Sept. 9, 2014, report on PRAs' progress in aligning to the principles.
The reasonable assurance review included a comprehensive review of Platts' documentation of its processes for price assessments used for oil derivative contracts and testing of the operating effectiveness of these processes in Houston, London and Singapore. The review was undertaken to meet IOSCO's recommendation that oil price reporting agencies engage an external auditor to review and report on the PRA's adherence to its stated methodology criteria and with the requirements of the IOSCO principles.