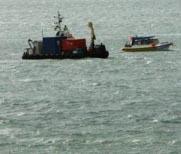 InfraStrata plc is providing an update on its activities on Petroleum Licence PL1/10 in Northern Ireland.
All the regulatory approvals and other permits, including the site lease, are now in place for drilling the Woodburn Forest-1 well this coming winter. The timing for the drilling is dependent upon securing a drilling slot for the rig and completing the funding.
With regard to funding, it is disappointing to report that Larne Oil and Gas Limited, who exercised an option to acquire an interest in the project in September 2014, have run into funding difficulties and will no longer be participating in the project. The licence interest for InfraStrata will therefore revert to the pre-farmout 45% level with a 15% working interest carried by existing partners Terrain Energy Limited and Brigantes Energy Limited. InfraStrata also holds a 50% beneficial interest in adjacent offshore licence P2123.