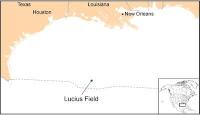 Inpex Corporation (INPEX) announces first production on January 16, 2015 at the Lucius Oil Field, which includes portions of Keathley Canyon blocks 874, 875, 918 and 919 in the US Gulf of Mexico. INPEX is involved in the project through subsidiary Teikoku Oil (North America) Co., Ltd.
The Lucius Oil Field is located approximately 380km southwest of Port Fourchon, Louisiana, where the water is approximately 2,160m deep.
Oil and natural gas produced at the oil field will be processed at a floating facility capable of processing 80,000 barrels of oil and 450MMscf of natural gas per day, and then transported to an onshore facility in the State of Louisiana by way of an undersea pipeline.