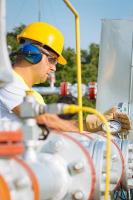 Intertek, a Total Quality Assurance provider to industries worldwide, has achieved its first industry accreditation in South Africa for flow metering verification. This will enable the company to provide assurance to SANAS industry standards that its clients' flow metering equipment is operating as accurately as possible.
Following a series of initial technical and managerial audits, Intertek has been awarded the SANAS (South African National Accreditation System) 10378 accreditation. This allows the company to carry out verification services on the liquid-measuring flow meters that form part of larger oil and gas metering systems.
Accurately measuring hydrocarbons is integral to the profitable production of oil and gas. As hydrocarbons are transported through pipelines, platforms and metering systems, their quantities must be meticulously measured. When dealing with such a high-value product, even the smallest miscalculation of quantities exchanged between operators can result in significant financial loss. Therefore, the calibration of flow metering equipment must be exacting.
In order to maintain the accreditation, Intertek will undergo an audit process with SANAS every twelve months to ensure continuing compliance.
Greg Dinkelman, Business Development Manager for Calibration and Metering at Intertek Exploration and Production, says, "This is an important achievement for our business in South Africa. The SANAS 10378 accreditation is recognition that our facilities are fit-for-purpose, fully equipped and capable of performing the vital calibrations our clients need, offering assurance that they are receiving the best service possible. Our current verification work is carried out to international standards in many locations globally and this accreditation supports us in building a strong reputation and solid client relationships in South Africa." Friv games represent completely another case. This platform doesn't require from you such things as uncovering personal information.
Intertek Calibration and Metering has a strong presence in South Africa and has completed contracts for oil and gas clients in Mozambique, Angola, Botswana, Tanzania, Democratic Republic of the Congo and Chad. The solutions it offers include metering consultancy, flow measurement services, meter prover calibrations, tank calibration, 3D laser scanning and cargo inspection.