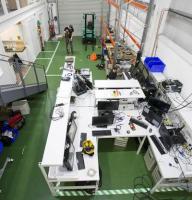 iSURVEY Group has marked a successful first year for its UK division with the launch of a new office in Aberdeenshire.
Since an initial £500,000 investment in early 2014 to set up UK-based iSURVEY Offshore Limited, a number of new appointments have taken onshore staff numbers to six, in addition to a further 20 personnel who are mobilised to offshore projects for the UK entity. In line with the company's growth strategy, it is expected that another three onshore staff, and as many as 10 offshore, will be recruited to the team during 2015.
iSURVEY Offshore Ltd also announced a number of contract wins throughout the last year with major operators including Bibby Offshore and Jumbo Offshore. A profitable first year in 2014 accumulated revenue in excess of £2million, and external sales £300,000 ahead of budget.
iSURVEY Offshore Ltd managing director, Andrew McMurtrie, said: "We continue to build on our reputation as a leading provider of high quality survey and positioning services, and our UK division has picked up real momentum since its launch in January 2014.