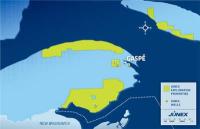 Junex Inc. is nearing the end of its swabbing/well cleanup operations at its Galt No. 4 Horizontal Well that it performed in preparation for oil production testing that is planned for January 2015.
These swabbing/well cleanup operations were performed to remove the maximum volume of drilling fluids that were remaining in the wellbore in order to permit the entry of oil from the Forillon oil reservoir into the well.
Junex will be installing the downhole portion of the oilfield pump and related equipment in the well in the next few days. Industry specialists from Houston will be on location in early January 2015 to install of the surface pumping equipment, after which the final well cleanup operations will be completed. Once these are completed, Junex will then commence oil production testing operations in the well.
To date, a total volume of approximately 101 barrels (16.4 m3) of light oil has been recovered from the swabbing/well cleanup operations. Representative samples of this oil have been sent to accredited laboratories for analysis.