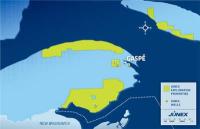 Junex Inc. recorded a steady production rate of 161 barrels of oil per day during the final six days of its 14 day production test in its Galt No. 4 Horizontal well. This production rate of 161 BOPD was limited by the configuration of the surface oilfield pumping equipment at the well.
A total volume of 2,017 barrels of light, sweet crude oil was produced during this production test in the first horizontal oil exploration well ever drilled by industry in Quebec.
"To the best of our knowledge, this production rate of 161 barrels of oil per day is the highest oil production rate seen so far in Quebec and, based on our calculations, translates into a commercial oil production rate even at today's oil price. Because this production rate is currently constrained by surface equipment configuration limitations, we recognize that our well is likely capable of being produced at a higher production rate though it is premature to affirm what this rate could be. The completion of the next phase of well shut-in with measurement of the pressure build-up and possible future production testing should clarify this." stated Mr. Peter Dorrins, Junex's President & Chief Executive Officer.