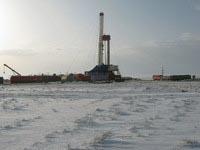 The Board of Jupiter Energy provides the following well 19 drilling update.
Well 19 is the Company's eighth well on Block 31, Jupiter's 100 per cent owned permit situated onshore Kazakhstan just east of the city of Aktau and the Caspian Sea. The well is located in an area of already existing C1 reserves, between the already flowing J-51 and J-52 wells.
Well 19 took a total of 53 days to drill and reached a total depth of 3,068m on 16 February 2015; the performance of the drilling operation was in line with expectations. Open hole logs have been acquired and production casing is now being run in preparation for a brief period of well testing.
Hydrocarbon shows while drilling, mud logging, and subsequent open hole wireline logs all indicated hydrocarbons in the Mid Triassic reservoir. The open hole logs indicated good levels of oil saturation and porosity, similar to that of the J-51 and J-52 wells which were also drilled on the same structure.