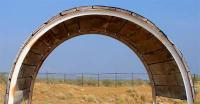 Jura Energy Corporation says that the exploration well, Ismail-1, in the Guddu block was drilled to the total depth of 825 meters. The targeted Pirkoh Limestone formation was encountered at 700 meters.
Based on the interpretation of logs and the results of Modular Dynamic Tester, the formation is found to be water bearing. Consequently, the well is plugged and abandoned without testing.
Jura holds a 13.5% working interest in the Guddu Block, which is operated by Oil and Gas Development Company Limited.