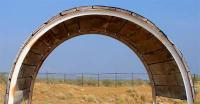 Jura Energy Corporation is pleased to provide an update on its operations in Pakistan.
Guddu Block
Reti-2 development well
After successful drilling, the development well Reti-2 has been completed in the Pirkoh Limestone formation of Eocene age. Production from Reti-2 is expected to commence in June 2015 after tie-in with the existing production facilities.
Jura holds a 10.66% working interest in the Reti lease, which is operated by Oil and Gas Development Company Limited.
Commencement of production from Maru East-1
Production from Maru East-1 has commenced after allocation of gas from the well to Engro Fertilizers Limited, the existing buyer of gas from Reti Maru gas fields in the Guddu Block. Currently, the well is producing gas at the rate of approximately 2.6 MMcf/d (Jura share 0.3 MMcf/d).
Production from Maru East-1 is expected to be entitled to a gas price of approximately US$ 5.11 per MMBtu, based on the cost and freight price of a basket of crude oil priced at US$ 70 per barrel, under Pakistan Petroleum (Exploration & Production) Policy, 2012.