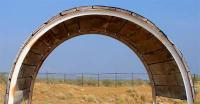 Jura Energy Corporation has commenced commercial production from the Zarghun South gas field in the Zarghun South Block.
Approximately 4 MMcfd (1.6 MMcfd net to Jura) of gas from the field is being sold to Sui Southern Gas Company Limited (SSGCL) under an Interim Gas Sale Arrangement (the "Interim Arrangement"). This Interim Arrangement was approved by the Joint Venture partners pending the installation and commissioning of an Amine Sweetening Unit (ASU), used to remove carbon dioxide and hydrogen sulphide from the inlet gas stream.
During this Interim Arrangement, a chemical scavenger is being used in place of the ASU. The gas sold during this interim period will be "off specification", as this gas will not fully meet the specified composition standard agreed under the original Gas Sale Agreement with SSGCL. This Interim Arrangement will continue until the ASU becomes fully operational, which is expected to occur in October 2014.