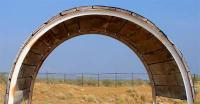 Jura Energy Corporation says that the post stimulation testing results of development well Reti-2, in the Reti lease, earlier completed in the Pirkoh Limestone Formation of Eocene age.
During a short duration test on 48/64 inch choke, the well flowed gas at the rate of approximately 6.22 MMcf/d (net to Jura 0.66 MMcf/d) at a wellhead flowing pressure of 400 psi.
Jura holds a 10.66% working interest in the Reti lease, which is operated by Oil and Gas Development Company Limited.