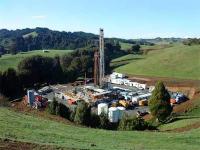 Kea Petroleum has conditionally agreed to sell its 70% interest in PEP51153, the licence which includes the Puka wells and the Shannon prospect, to Caliera Fund Limited, a privately owned New Zealand company, for NZ$500,000 (approximately £222,550). That disposal, if consummated, represents a disposal of substantially the whole of the Company's assets, and will result in the Company being classified as an 'investing company' under the AIM Rules for Companies, following an investment policy which must be approved by shareholders.
In addition we have entered a conditional heads of terms, subject to contract, to dispose of our interest in PEP381204, the licence which includes the Mauku prospect.
The net proceeds of the Disposals after costs will be applied in settlement of the Group's current creditors, and as working capital, but will not be sufficient to meet the ongoing costs of keeping the Company alive or delivering on its proposed investment policy.