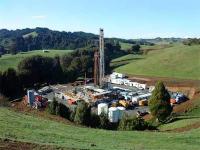 Kea Petroleum has relinquished its Mercury permit, PEP 52333, offshore Taranaki, and an update on the ongoing strategic review.
Mercury permit
This permit was awarded to Kea on 13 October 2010. The permit covers an area of 232.5 km², mainly offshore in the north Taranaki area.
As part of an agreed work program Kea acquired about 119 km2 of 3D seismic data and, following interpretation of the data, identified a 16 km2 3-way dip and fault closed prospect with original resource potential estimated by management to contain 108 - 688 (P90 - P10) million barrels of oil in place.