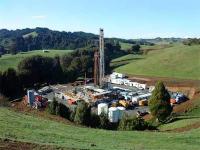 MEO Australia Limited revealed that it has received advice from Kea Petroleum Limited (Kea), Operator of the PEP51153 exploration permit located onshore New Zealand, that it has appointed liquidators to liquidate the assets of the company.
It is not yet clear how this affects the previously announced sale of Kea's 70 percent interest in PEP51153 to Puka Petroleum Limited (PPL), which has not yet reached completion.
MEO is a joint venture participant in PEP51153 (MEO 30 percent) and its interest in the permit is not affected by the appointment of liquidators to Kea.