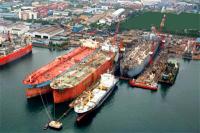 Keppel FELS Limited (Keppel FELS), a wholly owned subsidiary of Keppel Offshore & Marine Ltd (Keppel O&M), has secured a contract from Crystal Heights Holdings Limited (Crystal Heights), a company specialised in the offshore oil and gas market, to build a high specification liftboat worth US$85 million.
The liftboat is designed by Keppel O&M's liftboat design specialist, Bennett Offshore in collaboration with Keppel FELS. Scheduled for delivery in 4Q 2017, the liftboat will have provisions enabling it to operate in China, the Middle East and the Gulf of Mexico.
Liftboats are dedicated vessels used to support offshore platforms in construction, accommodation and well intervention as well as maintenance and installation.
Mr Wong Kok Seng, Managing Director of Keppel O&M (Offshore) and Keppel FELS, said, "This latest contract from Crystal Heights is the second liftboat based on Keppel's innovative proprietary solution that Keppel has been contracted to build within a year.
"We have leveraged our jackup rig technologies and expertise to develop our own series of liftboat designs that is able to value add to the industry. For instance, it will have a higher freeboard for safer operations and retractable spud cans flushed to the bottom of the rig's hull which reduces drag when transiting between locations.
"Even as the market for drilling rigs remains depressed, Keppel has the versatility and capabilities to design and build other products that are in demand, such as mobile units for plug and abandonment, accommodation and maintenance."