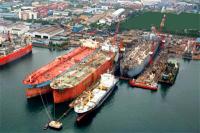 Keppel Offshore & Marine Ltd (Keppel O&M)'s wholly owned subsidiaries Keppel Shipyard Ltd (Keppel Shipyard) and Keppel Nantong Shipyard Co. Ltd (Keppel Nantong) have secured contracts from repeat customers worth a total of S$153 million.
Keppel Shipyard's contract is for the conversion of a Floating Production Storage and Offloading (FPSO) vessel for Armada Cabaca Limited, a wholly owned subsidiary of Bumi Armada Berhad (Bumi Armada) while Keppel Nantong's contract is to construct a submersible barge for Smit Shipping Singapore Pte Ltd (Smit Shipping), a wholly-owned subsidiary of Royal Boskalis Westminster Group.
Mr Michael Chia, Managing Director (Marine & Technology), Keppel O&M, said, "The award of these contracts from Bumi Armada and Smit Shipping affirms the confidence that repeat customers have in the quality of our products and the timeliness which we deliver with. Such high level of standards in safety, customer service, and operational excellence can be found across our global yards.
"In working with these customers who have shown great faith and support in us, we will draw from our working experiences in previous and ongoing projects to continuously improve our performance and provide value-added services."
Keppel Shipyard has commenced work on the FPSO conversion for Bumi Armada which is scheduled to complete in 2Q 2016. The yard's work scope for this project includes refurbishment and life extension works, upgrading of living quarters to accommodate 100 personnel, installation and integration of an external turret mooring system and topside process modules.
The FPSO, which will have a storage capacity of 1,700,000 barrels, will be able to handle up to 80,000 barrels of oil per day (bopd), 120,000 barrels per day (bpd) of water injection, and 120 million standard cubic feet per day (MMscfd) of gas handling. Upon completion, the FPSO will be producing for the Angola Block 15/06 East Hub Project that is located 350 km northwest of Luanda, Angola.
Over in China, work has also commenced for the barge that Keppel Nantong is building for Smit Shipping. The new barge, Giant 7, will be the third such unit to be delivered by Keppel to the marine services company. Giant 7 will join the first two units, Giant 5 and Giant 6, which are still undergoing construction, to be deployed in the Wheatstone project, 12 km west of Onslow off the Pilbara coast of Western Australia.