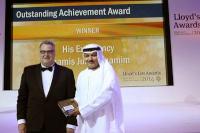 His Excellency Khamis Juma Buamim, Chairman Drydocks World & Maritime World, was honored by Lloyds List with the Outstanding Achievement Award. This prestigious award recognizes an individual who over the course of their career has contributed to the industry in an exemplary &profound manner.
Lloyd's List is one of the world's oldest continuously running journals, having provided weekly shipping news in London as early as 1734, with circulation now international & appears daily&is the leading source for the maritime industry.
The Lloyds List Awards, a glamorous celebration of achievement in the maritime industry & the Middle East & Indian Subcontinent Awards 2014 was held at a glittering ceremony at the JW Marriot Marquis on November 18th 2014. The honor was presented to HE at the ceremony, held at the JW Marriot Marquis on November 18th 2014 in the presence of a veritable 'Who's Who' representing all facets of shipping, maritime, offshore, oil, gas & energy industry. Being the oldest of its kind, the Lloyds List Awards is recognized as being the most prestigious in the maritime industry, setting the standards & benchmarks for other such similar awards.