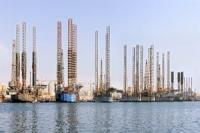 Lamprell has received a new contract award from National Drilling Company (NDC), Abu Dhabi, for the construction and delivery of two further high specification jackup drilling rigs of a Super 116E (Enhanced) Class. This contract award is valued at approximately US$ 365 million.
Lamprell has previously been awarded contracts by NDC for a series of six identical rigs and we are on schedule to complete construction of the final two jackup rigs, having delivered the first four on time and on budget.
As with the units under construction, these newly-ordered rigs will be completely outfitted, LeTourneau-designed, self-elevating Mobile Offshore Drilling Units of a Super 116E (Enhanced) Class design with a rated drilling depth of 30,000 feet. The rigs will be constructed at Lamprell's facility in Hamriyah, United Arab Emirates (UAE), with planned delivery dates in Q4 2016 and Q2 2017 respectively.