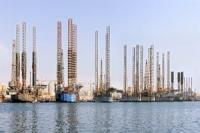 Lamprell publishes a trading update ahead of its results for the year ended 31 December 2014.
Operational highlights
Lamprell delivered a robust operational and financial performance in 2014 as a result of strong project execution, favourable phasing of rig construction cycles and some one-off elements.
The Group has seen a strong rate of conversion of its bid pipeline with six new build jackup rig orders won and several smaller awards signed recently. In the second half of the year, we commenced construction for four new build jackup rigs, two for Ensco rigs and two for Shelf Drilling.
Consequently, seven new build jackup rigs are currently under construction in our Hamriyah facility and a module construction project for 29 piperacks is being fabricated for Petrofac in our Jebel Ali yard. Additionally, there are ten rig refurbishment projects underway across our Hamriyah and Sharjah facilities. All the projects are progressing well and are expected to be delivered on time and on budget. The construction of the two new build jackup rigs recently awarded by NDC is due to start shortly.