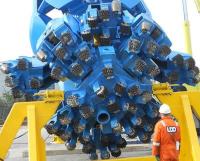 LDD, an Acteon company, has successfully completed drilling monopile foundations for RWE Innogy's Gwynt y Môr Offshore Wind Farm, North Wales, UK.
LDD has been working on the project since 2011, when it designed, built and delivered one of the world's largest reverse circulation drill rigs, the LD5000, within 10 months.
Because of the pile design, the LD5000 – capable of drilling up to 8.0 m – had to relief drill tapered piles using underreamers to fit a 4.6 m gap, then open up to a maximum 6.0 m. The final pile was drilled in April 2014.