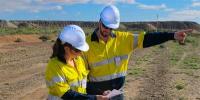 Leigh Creek Energy Limited has signed a non-binding Heads of Agreement (HOA) with APT Pipelines Limited, a subsidiary of APA Group, which will allow the development of conceptual plans for the interconnection of the Leigh Creek Energy Project (LCEP) with the east coast gas markets.
This is a major milestone in the development of the LCEP.
The HOA will be effective for at least six months and up to 2 years. Under the HOA, LCK and APA will work together to:
• Develop conceptual plans for the interconnection of LCEP to the eastern Australian gas markets; • Identify the most likely route for the interconnection pipeline; • Review the transport charges to deliver gas to market; • Review the gas storage potential at the LCEP; and • Review other infrastructure opportunities including power generation.