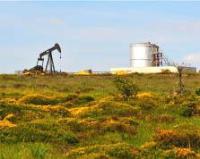 LGO says that well GY-672, spudded on 15 April 2014, has reached total depth and that Well Services Petroleum Company Limited's Rig-70 is in the process of being moved to the next of the current planned wells. Log interpretation from both the Goudron and C-sand intervals confirms the presence of recoverable hydrocarbons; the net pay in the Goudron Sandstone is estimated to be 336 feet and in the C-sand main target is estimated at 160 feet.
Drilling Operations:
Well GY-672 is the first of the seven well program in 2015 being drilled from Pads 4 and 5. The Goudron Sandstone was encountered between 1,100 and 1,700 feet measured depth with an estimated net oil pay totaling 336 feet. The oil and gas bearing C-sand interval was encountered at a depth of 2,460 feet MD and the total depth of the well was 3,608 feet MD (3,570 feet TVD). Net hydrocarbon bearing pay in the C-sand interval has been provisionally estimated as 160 feet. The observed net pay is in line with the prognosis for this well.