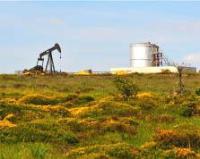 LGO spuds the first well in its 2015 seven well development program at the Goudron Field in Trinidad. Well Services Petroleum Company Limited's Rig-70, under contract to LGO, has been mobilised to the recently constructed drilling pad, Pad 4, and commenced drilling operations yesterday on well GY-672.
Wells GY-672, 673 and 674 are planned to be drilled back-to-back from Pad 4 and completed as C-sand producers once all three wells have been drilled, logged and cased. Well GY-672 is planned to be drilled to a total depth of 3,505 feet measured depth and is targeting a C-sand reservoir interval approximately 420 feet to the east of the surface location.
Wells in the 2015 program will deploy the successful three-casing design developed during 2014 and will use continuous logging by means of measurement-whilst-drilling, as piloted on well GY-671, to increase the efficiency and accuracy of the drilling process. The top Gros Morne sandstone reservoir is anticipated at 2,200 feet MD (2,000 feet sub-sea).