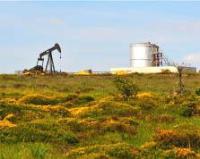 LGO says that well GY-673, which was spudded on 1 May 2014, has reached total depth and that well GY-674 has now been spudded and drilling ahead at over 166 feet. Electric log interpretation from both the Goudron and C-sand intervals in GY-673 confirms the presence of recoverable hydrocarbons; the net oil pay in the Goudron Sandstone is estimated to be over 650 feet and net hydrocarbon pay in the C-sand main target is estimated at 140 feet.
Drilling Operations:
Well GY-673 is the second of seven wells currently planned for 2015. The Goudron Sandstone was encountered between 530 and 1,710 feet measured depth ('MD') with an estimated net oil pay totaling 657 feet. The oil and gas bearing C-sand interval was encountered at a depth of 2,670 feet MD and the total depth ('TD') of the well was 3,193 feet MD. Net hydrocarbon bearing pay in the C-sand interval has been provisionally estimated as 140 feet. The observed net pay is in line with the prognosis for this well.