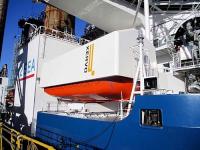 Xervo has just delivered and installed a completely new SOLAS lifeboat safety system for a provider offshore wind installations, A2SEA. With the system, developed and produced in Svendborg, Denmark – Xervo is ready to set new competitive standards within the cost-efficient SOLAS market.
Throughout the past 5 years the Danish lifeboat producer, Xervo, part of the SH Group, has received global recognition for their innovative lifeboat and rescue boat system for ships, rigs, and special vessels mainly within the offshore segment, including the Boat-In-A-Box davit system. Built around a unique safety philosophy the mission is to deliver the safest and best possible solutions to shipowners and oil and rig operators.
"In the business of safety solutions, we always try to develop the safest ones. It is our mission that nobody – neither on site nor behind the desks – must worry about safety checks or any handling of safety equipment. With our new SOLAS system, we now have a solution that delivers unparalleled safety to a very attractive price," says Kent Lynggaard Vinkel, Country Manager at Xervo.
Produced in Svendborg, Denmark the SOLAS safety system for A2SEA uses the know-how and best elements from Xervo's already renowned high-end NORSOK R-002 version. The result is a Boat-In-A-Box-system that meets SOLAS standards and more.
"You can compare the process with how advanced car manufacturers let the most innovative technology from their racing cars trickle down into consumer's vehicles. In the same manner we use the experience from our NORSOK systems to make safe lifeboat solutions for the SOLAS segment", explains Kent Lynggaard Vinkel.
"Thanks to A2SEA the installation of our new SOLAS system has been a very satisfying experience. Moreover, we now know that we have a very competitive product for the future. We know we can standardise the solution for all sizes and that we can add valuable safety in a marine and offshore business where cost-efficiency is vital."