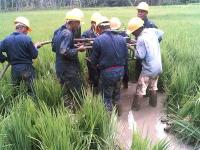 Lion Energy Ltd is pleased to advise that Lofin-2 appraisal well is currently preparing to cut an 18m core to provide important rock data to assist in the evaluation of the well. Only 1.7m of core, consisting of tight limestone, was recovered in the first coring attempt due to mechanical issues.
The forward plan is to recover the core and continue drilling to the planned TD of 5425m. This will allow evaluation of the extent of the potential hydrocarbon column and whether an oil leg is present. The well may TD shallower if there are no further indications of hydrocarbons and/or a water contact is penetrated.
The top of the primary objective Manusela Formation limestone was encountered at 4615m MD/4265m TVDSS, some 345m deeper than the top Manusela Formation in the Lofin-1 discovery well. The potential hydrocarbon column is at least 600m to current TD, based on preliminary well data while drilling.