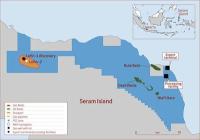 Lion Energy Ltd advises that the Lofin-2 appraisal well has reached a depth of 5471m MD/ 5128m TVDSS, slightly below its initial planned total depth of 5425m MD, as the well continues to encounter hydrocarbon shows. Wireline logging is currently underway to evaluate the 861m open-hole section of the Manusela primary objective.
Since Lion's last update on the well on 25 March 2015, further coring was undertaken prior to a resumption of drilling 6 inch hole in the Manusela limestone objective from 4870m to the current total depth of 5871m MD.
On completion of wireline logging, the well will be flow tested and, subject to a successful flow period and shut-in pressure build up, production logging tools will be run to determine potential productive zones within the extensive Manusela Formation limestone section.