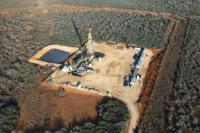 Lonestar Resources, Ltd. is pleased to provide an operations update to its investors. Underpinned by the outperformance of the wells drilled in its 2015 Eagle Ford Shale drilling program, Lonestar now projects that its net production for the third quarter of 2015 will average 6,500 BOE per day, representing a 39% increase in production over prior year results.
Third quarter 2015 production results mark a new record for Lonestar, and also represent an approximate 12% sequential increase in production over second quarter 2015 results.
Production growth in the Company's focus area of the Eagle Ford Shale is higher than Lonestar's totals. The Company now projects that its record-setting Eagle Ford Shale production increased approximately 48% year-over-year in the third quarter of 2015, and 15% sequentially over 2Q15 results.