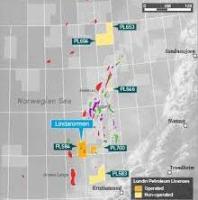 Lundin Petroleum, through its wholly owned subsidiary Lundin Norway, has completed the drilling of wildcat well 6405/12-1 on PL584. The well investigated the hydrocarbon potential of the Lindarormen prospect which is located 150 km northwest of Kristiansund on the Norwegian coast and approximately 80 km northeast of the Ormen Lange field.
The main objective of well 6405/12-1 was to test the reservoir properties and hydrocarbon potential of the Paleocene sandstones in the Rås Basin.
No reservoir sandstones were encountered in the primary objective. Shaly sandstones with poor reservoir quality but with high gas readings were encountered in the Late Cretaceous Shetland Group. The well is now being plugged and abandoned as a dry hole.