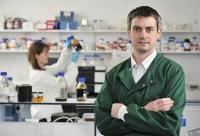 Scotland-based LUX Assure has announced the completion of its first major work in the Middle East using its innovative corrosion management tool, CoMic™.
The oil and gas chemical monitoring firm secured a contract win with Kuwait Oil Company (KOC) Research and Technology division in Ahmadi to provide support for a Sea Water Pipeline in North Kuwait.
LUX Assure's CEO, Charles Cruickshank, said: "We are thrilled to be breaking in to the Middle East market, as the potential for LUX Assure and its technologies in the region is vast. We formed a good relationship with KOC for this project and were pleased to see CoMic™ provide the same successful results in a new geographic location."
The scope of work involved LUX Assure's senior scientist Cameron Mackenzie working onsite for several days using one of the company's core oil and gas technologies, CoMic™, to evaluate the functional dosage of a corrosion inhibitor being applied in a transportation pipeline.