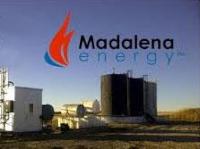 Madalena Energy Inc. is pleased to announce the results of its independent reserve reports as at December 31, 2014.
In 2014, the Company focused its efforts on creating a solid platform for continued growth in Argentina. The June 25, 2014 acquisition of certain properties in Argentina was a key transformational transaction that was highly accretive on production, reserves and NPV 10%. In 2014, the growth was also driven by successful horizontal drilling projects on Madalena's Argentina assets.
The financial and operational information below is based on estimates and are unaudited. All numbers are expressed in Canadian dollars unless otherwise noted.
Year End 2014 Reserves Highlights: •Proved ("1P") reserves have increased 149% from 2,603 MBoe to 6,490 MBoe; •Proved plus Probable ("2P") reserves have increased 155% from 4,505 MBoe to11,494 MBoe; •1P and 2P reserves per common share have increased 68% and 72% respectively; •2P reserve replacement was 763%; •1P Before Tax ("BTax") Net Present Value at a 10% discount rate ("NPV 10%") increased 386% to $125,955,000; •2P BTax NPV 10% increased 297% to $199,394,000, which is primarily supported by the Company's conventional assets; •1P and 2P NPV 10% per common share have increased 227% and 168% respectively;